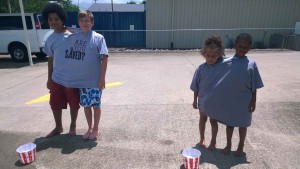 Kids absolutely love summer camp at Harris Holt Martial Arts
Our specialty is providing a fun week for your children by allowing them to see how they can develop individually in the martial arts.
Campers will receive a martial arts education in a kid-friendly environment combining fun, fitness, character education and leadership development. All camps are specifically designed for 6-13 year olds. Although Harris Holt provides multiple themed camps, and they all have some aspects in common such as a chance to bring in your water gun and play in the slip-n-slide, and who could forget a chance to purchase a treat from the ice cream truck!  Simply put, Harris Holt Martial Arts Summer Camps are filled with fun, learning, and opportunities to grow.
Each Camp will include 2 karate lessons per week and snack time!
---
What to Bring
A lunch with a drink
Uniform and Belt (FREE UNIFORM AND BELT TO NEW STUDENTS)
Extra set of clothes for water play/towel/sunscreen
Water bottle
Wear something comfortable each day
Please label all items brought to camp with your child's full name
Cost/Times
Pay for 1-4 camps $165 each camp
Pay for 5-9 camps $145 each camp
Pay the day of the camp $185
Drop off is as early as 7:30am and pick up is as late as 6:00pm. Themed activities will go from 9am-4pm.